NASCO's Cultural DNA
To be on a team at NASCO means you are a part of the whole. What you do and how you do it matter.
As an organization, it's ingrained in us to care, empathize and go the extra mile because that's who we are. We didn't get here by jumping on the latest fad or by losing our focus — we've built a reputation of stability and trustworthiness with our long-standing client relationships. It may be a cliché to say we're more like a family, but it's true.
We use our NASCO mindsets as a guide to drive our behaviors and define who we are and who we want to be.
We are:
Customer-focused
We are relentless when it comes to solving challenges and advancing business goals.
Creative
We imagine new possibilities by embracing innovative ideas and challenging the status quo.
Catalyst
We boldly take on new adventures and seize opportunities to accelerate growth.
Committed
We believe relationships are founded on trust and respect and strengthened by honesty and communication.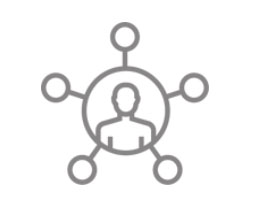 Connected
We are compassionate community builders strengthened by a culture of diversity and inclusiveness.
Work with Us
If you're ready to help us explore new ways to expand and define the healthcare ecosystem, visit our open roles and apply today.
Our Benefits
• Paid Time & Volunteer Day Off
• 401(k) Plans
• Healthcare with Dental & Vision
• Work Flexibility
• Education Assistance
Our Offices
With physical office spaces in Atlanta, GA and Mechanicsburg, PA, our teams can gather in person for meetings, client reviews and team brainstorming sessions.
Our day-to-day is conducted in a remote, digital environment with our associates and contractors using the latest tools and technologies for connection and collaboration.
Award-winning Workplace
We are a continuous-learning organization. What we know today may not be what we need to know tomorrow. By prioritizing people and creating an environment that encourages knowledge sharing, we've cultivated a workplace where employees can thrive and grow in their careers. We're proud to have an award-winning culture that's frequently recognized as a leading employer in our home state and across the healthcare industry.
https://www.anthem.com/machine-readable-file/search
In compliance with the Transparency in Coverage Act, NASCO is making machine-readable files (MRFs) that contain the negotiated rates for in-network providers and allowed amounts for out-of-network providers publicly available. These files follow the Centers for Medicare & Medicaid Services (CMS) defined layout and are in the CMS approved format (JSON) and are not meant for a consumer-friendly search of rates, benefits, or cost sharing.
Ready to Empower the Future of Healthcare?
Backed by decades of healthcare expertise, we're aligning our strategies, talent and a set of clear priorities to drive innovation. By developing new products, enhancing capabilities and increasing sharable services, we help our customers remain competitive and adapt to meet the needs of a rapidly changing market.